Argi
Use: Teaches you how to summon this companion.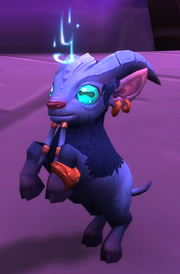 Argi is a companion that resembles a mix between a draenei and a goat. She[1] bears a Gift of the Naaru upon her forehead.
Source
Argi is available from the shop or the In-Game Store for $10 or €10. Argi was released on December 3, 2014 along with
 [Grinning Reaver].[2]
Argi is also included in a bundle alongside
 [Grinning Reaver] for $30 or €30.
Pet Journal
Often caught chewing on things they shouldn't be, goats were initially blamed for the crash of the Exodar.
A gleeful little goat that's out of this world.
Inter-goat-lactic - If you're looking for a companion to jump into your heart and nibble your socks, this little interstellar traveler would love somewhere to call home. She'll light the way with her Naaru-touched horns, climbing, swimming, and running wherever you go. Adopt this rambunctious little ruminant today!
Battles
Trivia
Until December 31, 2014, Blizzard donated 100% of all sales from this companion to the Make-A-Wish Foundation.[2] Over $1.9 million dollars was raised.[3]
She is likely a reference to the fact that many players refer to draenei as "space goats".
Patch changes
References
External links
Purchase
Item
Battle pet types
Beast battle pets

Archetype of Cunning

Archetype of Discovery

Archetype of Predation

Argi

Bloodfeaster Spiderling

Blushing Spiderling

Copperfur Kit

Corpulent Bonetusk

Goldenpaw Kit

Green Viperid

King Viperid

Momma Vombata

Red Viperid

Rosetipped Spiderling

Ruby Baubleworm

Rustfur Kit

Sable

Tarachnid Ambusher

Tarachnid Stalker

Topaz Baubleworm

Tunneling Vombata

Turquoise Baubleworm

Verdant Kit

Viperid Menace

Vombata Pup