For the Uldum mobs, see Armadillo (mob).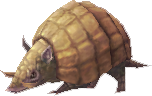 Armadillos are small mammals with leathery armor shells and two protruding tusks. They roll into protective balls when they feel threatened, or when their mother calls.[1] When these sleepy critters aren't snoozing, they use their massive claws to dig for tasty insect snacks.[2]
They were introduced with World of Warcraft: Cataclysm.
Notable
Types
As a companion pet
Main articles: Armadillo Pup, Stone Armadillo
References
Creature group
Beast creatures

 

Arthropod

Arachnid
Crustacean
Insect

 

Mammal

Carnivoran
Ungulate

Bovids
Camelids
Cetaceans
Proboscids
Swine