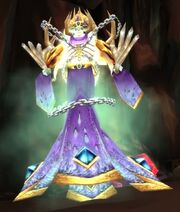 Artruis the Heartless is a lich found at The Sundered Shard in Sholazar Basin. He's the leader of the undead that has started invading the area.
Abilities
Objective of
Quotes
Ah, the hero. Your little friends said you would come. This certainly saves me the trouble of hunting you down myself.

These two brave, ignorant fools despise each other, yet somehow they both spoke of you as a hero. Perhaps you just lack the will to choose a side... let me extend you that opportunity.
Patch changes
External links