Ashtongue Mystic
For Black Temple mobs, see Ashtongue Mystic (Black Temple).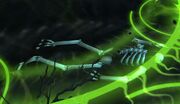 Ashtongue Mystics are Ashtongue Broken who came from the Black Temple into Mardum with Battlelord Gaardoun.
They are seen in the Fel Hammer, Niskara, and Deliverance Point on the Broken Shore.
Quotes
Gossip
<The broken mystic barely clings to life>
I am good as dead. Do... What must... be done.

 mystic, Thank you for your sacrifice.
Abilities
Objective of
Mardum
Patch changes
External links