Assault on Stonefury Cliffs

Start
War Planning Map [31.5, 30.9]
End
Scout Valdez [31.0, 31.2]
Level
40 (Requires 40)
Type
Daily
Category
Garrison Support
Experience
22610
Rewards
46 20 800
Repeatable
Yes
For the Horde version of this quest, see  [40 Daily] 

Assault on Stonefury Cliffs

.
Objectives
Assault the Bloodmaul ogres at Stonefury Cliffs in Frostfire Ridge.
Assault the Bloodmaul forces at Stonefury Cliffs
Description
Bloodmaul ogres from Frostfire Ridge have been ambushing trade routes throughout the continent, and are putting captured soldiers to work in their slag mines.
Bodrick Grey has requested the rescue of friendly troops that have been taken prisoner in the main Bloodmaul compound at Stonefury Cliffs.
Rewards
You will receive:
Progress
How goes the assault, sir?
Completion
Word of the assault has already made it back, as have some spoils from the fight.
Well done sir, if you don't mind me saying.
Notes
Group up. Kill ogres, free slaves, and loot caches. Additonally, Molthron at [43, 15]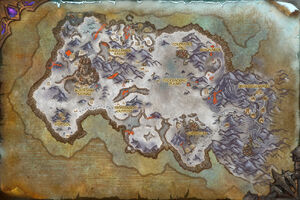 has some bonus quests in the area:
There are three achievements that can be acquired while on this quest:
Progression
Patch changes
External links