For the dungeon's lore, see Violet Hold. For the Wrath of the Lich King version, see Violet Hold (instance).
The Violet Hold is a prison complex located in Dalaran. It has some deep secrets now awakened by proximity to the Tomb of Sargeras.[1][2]
Adventure Guide
In the aftermath of the Northrend campaign and the Blue Dragonflight's attack on this Dalaran prison, the Violet Hold was repaired and its cells were repurposed to house some of the most dangerous servants of the Lich King. Now, as Dalaran floats above the Broken Isles as the flagship of the war against the Legion, a shadowy threat once again seeks to strike at Kirin Tor from within.
Maps and subregions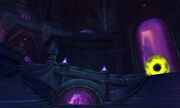 Map
Quests guide
Quest name
Quest giver
Zone location
Neutral quests
 [45D] 

Assault on Violet Hold: Into the Violet Hold

 

[

Broken Portal Shard

]

Assault on Violet Hold
 [10-45D] 

Assault on Violet Hold: Purple Pain

 Lieutenant Sinclari
Dalaran
  [45D] 

Assault on Violet Hold: Into the Hold

 Violet Hold Guard
Dalaran
  [45] 

In Defense of Dalaran

 Emmarel Shadewarden
Trueshot Lodge
Denizens
Main article:

Assault on Violet Hold NPCs
| Bosses | Monsters | NPCs |
| --- | --- | --- |
| Violet Hold | | |
Dungeon denizens
Encounters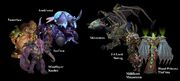 You will encounter three bosses in this dungeon, the first two being randomly selected out of this list of bosses:
Finally, you will always face either


 Sael'orn or


 Fel Lord Betrug as the third boss.
Loot
Achievements
Trivia
The dungeon was originally described as featuring never-before-uncovered secrets and mysteries pertaining to the origins of Dalaran, the Kirin Tor, and the world itself, which would be awakened in proximity to the Tomb of Sargeras.[1][3] The in-game dungeon offers nothing of the sort. However, the version of the Violet Hold displayed during   [45] 

In Defense of Dalaran

features an underground cavern that can be reached through the breached floor of the Hold, a breach that could potentially have been left from the original designs for the updated dungeon. It is also notable that The Frozen Throne depicted Violet Hold as an extensive underground network of caves and jails.
The text listing what demon is emerging from the portal is frequently wrong. For example, it could state that a Portal Keeper is emerging, when in reality it is a Portal Guardian, or vice versa, with the elite Legion squad being the sole exception.
Gallery
The floor breach during   [45] In Defense of Dalaran
Patch changes
References
External links
| Assault on Violet Hold | Scenario |
| --- | --- |
| | |