Atal'Dazar (instance)
Atal'Dazar is the first of two wings of the area also known as Atal'Dazar alongside with Kings' Rest. It is a 5-man instance in Battle for Azeroth.
Adventure Guide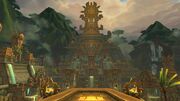 For millennia, the Zandalari kings were laid to rest within the tombs of Atal'Dazar, secluded high atop the mountain Mugamba. These pyramids grew more elaborate with each passing ruler, as new rooms were constructed to house the deceased's vast wealth. Now, these once pristine halls have been corrupted by the Prophet Zul and his trusted lieutenant, Yazma, who seek to twist the power of these ancient kings for their own dark machinations.
Maps and subregions
Maps
Subregions
NPCs

Please add any available information to this section.

Bosses
Monsters
NPCs

Unnamed zone
Loot
Narrative

Please add any available information to this section.

Intro

Brann Bronzebeard says: Aye, this is the place. I can feel the power o' these relics deep in me bones.
Brann Bronzebeard says: 'Course, we're not the only ones drawn 'ere by 'em.
Yazma says: You are too late, outsiders! De temple belongs to my master now.
Yazma says: Soon Zul will awaken Dazar, den de troll empire will rise again!
Rezan defeated

Yazma says: Rezan was a powerful loa. Perhaps you will make a worthy sacrifice for Zul.
Vol'kaal defeated

Yazma says: Vol'kaal... in pieces again? No matter... I can rebuild him. But when YOU die, there will be no coming back!
Alun'za defeated

Yazma says: My thanks for killing de priestess. You have only succeeded in strengthening my hold on de temple!
Yazma remaining

Yazma says: Impressive. You made it farther than I thought... but I will still be drinking your blood.
Achievements
Gallery
Patch changes