| | |
| --- | --- |
| | This article falls within the scope of the Battle for Azeroth subzone project. |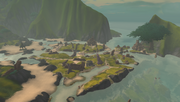 Atal'Gral (also spelled Atal'gral)[1][2] are the ruined temple grounds to the shark loa Gral in Zuldazar's eastern coast. The temple proper became known as the Sundered Temple. It was destroyed by the naga[3] about five years before the Fourth War,[4] who were and still are after the artifacts located there.[5]
There are Grallian Idols around the temple. Next to one of them there is the Voice of the Ocean.
Trivia
In the Battle for Azeroth alpha, Atal'Gral was destroyed by the Cataclysm instead of the naga who would have just moved in later.[6]
The Squishy Sponge was located here but was later seemingly replaced by the Voice of the Ocean.
References