Avarice (Revendreth)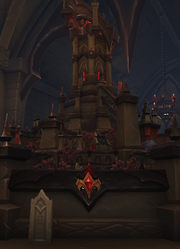 Avarice is a stone tablet located in Sinfall in Revendreth.
Contents
Avarice
Avarice.
This medallion bestows the wielder authority over the Catacombs Ward. There let those afflicted with this burden be sealed away until long after the time they believed they would be remembered.
Let them fade away to be forgotten, the memory of their "great deeds" be measured against the unending weight of eternity.
Patch changes
External links