Awilo Lon'gomba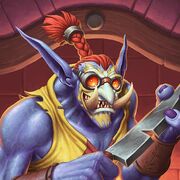 Awilo Lon'gomba is a jungle troll cooking trainer in the Filthy Animal in Dalaran.
He seems to have an obsession for cooking gnomes, believing them to be the pinnacle of flavor. In many of the daily quests he gives, the quest-ending NPC asks "are you sure its 100% rhino meat and no gnome this time?".
Daily cooking quests
Each day, Awilo offers one of five level 77 daily cooking quests:
Quotes
Gossip
What be happening?
You here to eat, mon? Or maybe to learn cooking from the best, eh?

 I'm here for cooking training.
In Hearthstone

This section contains information exclusive to Hearthstone and is considered non-canon.
Awilo appears as one of the bosses that can be encountered in the Dalaran Heist single-player experience in the Rise of Shadows expansion for Hearthstone.
Trivia
He looks and acts exactly like a troll from the fan made WoW movie series known as "Never stay tuned". There he is a troll hunting and cooking gnomes (which explains the text above!).
Patch changes
See also
External links
| Northrend | The Broken Isles |
| --- | --- |
| | |