Axle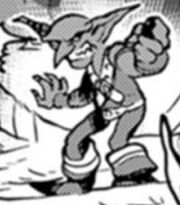 Axle is a goblin innkeeper located in Mudsprocket in Dustwallow Marsh.
Vendor information
Quotes
Gossip
Come in out of the ash and muck. Dry yourself a spell.
 Make this inn your home.
 I want to browse your goods.
Dialogue with Brogg
Axle walks down from his spot on the upper floor to talk to Brogg.
Axle says: I thought we talked about this, Brogg. You can't stay in this building. Sure, it can house you, but there's no room for anyone else!
Brogg says: You said Brogg could stay here! You promised Brogg you'd help regain Stonemaul clan mound!
Axle says: Yes, we said you can stay here, but this building is our headquarters! All of our manuals and blueprints are stored here!
Brogg says: But this the only building that fit Brogg! Goblins make buildings too small!
Axle says: I'm inclined to say they made ogres too big! I can see I'm not going to convince you to move now, but don't think this is permanent!
Axle heads back upstairs.
Notes
Patch changes
See also
References
External links