Azuremyst Isle storyline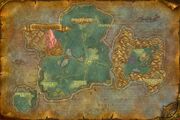 Azuremyst Isle ia a level 1-10 Alliance zone, the starting zone for draenei. It begins with the draenei starting experience in Ammen Vale, then proceeds to Azure Watch. The main plot involves helping the shipwrecked draenei recover from the crash of the Exodar and heal the surrounding wildlife of the resulting corruption, as well as establishing ties with newfound allies in the Alliance and the native Stillpine tribe of furbolg.
Azure Watch
Caregiver Chellan starts the flight master mechanic introduction chain. This quest chain has players traveling to the Exodar to pick up supplies for the Caregiver and then returning with them, and teaches them how flight masters work. The quests include:
Acteon starts a quest chain dedicated to hunting the local Moongraze:
Killing an Infected Nightstalker Runt during these drops a

 [Faintly Glowing Crystal], which alerts Exarch Menelaous to the damage caused to the ecosystem by the Exodar's crash. He then sends players out to help prevent the contamination:
 [7] 

Strange Findings
A pair of quests are not in fixed locations, but can be found randomly through the isle.
At level 8, Dulvi starts a quest chain dedicated to finding the missing fisherman Cowlen. After finding him, he needs help recovering the remains of his slaughtered family. Later, his daughter Magwin returns to him with players' help.
 [10] 

All That Remains

 [10G] 

A Cry For Help
The Prophecy of Velen
Anchorite Fateema starts a quest chain that sends players to Odesyus Landing to meet with a shipwrecked Alliance crew. The crew's captain, a human named Odesyus, suspects that there is a traitor within his ranks, and in the quest

 [9] Tree's Company, players discover who it is. The traitor turns out to be a spy, tasked by a mysterious "Master" with finding the Exodar and potentially sabotaging it further. This quest chain also sends the player to nearby night elven ruins in order to drive back the naga now infesting them.
The Prophecy of Akida
Cryptographer Aurren sends players out around Azuremyst Isle to learn the language of the Furbolg, which has been inscribed on totems scattered across the island. After learning the language, players discover the Stillpine Furbolg reeling from recent calamities, including wars with the Bristlelimb Furbolg and an invasion by the Wildkin of the island. However a prophecy, the prophecy of Akida, speaks of one who is not a Furbolg who will deliver them. Players take on this role as they rescue prisoners from the Bristlelimb and work with the Stillpine warriors to retake Stillpine Hold from the Wildkin.
Onward to Bloodmyst Isle
At level 10, Exarch Menelaous in Azure Watch offers:
 [11] 

Coming of Age

 [11] 

Elekks Are Serious Business

— continues on Bloodmyst Isle
Alternatively, you can take the boat from Valaar's Berth to leave the draenei islands, sailing to Rut'theran Village and from there to Darkshore or Stormwind City.
Full Quest List