Baby Stonehide
Use: Teaches you how to summon this companion.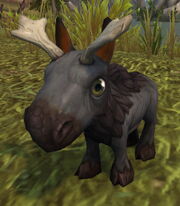 The Baby Stonehide is a moose companion.
Source
This item can be received as a reward from Island Expeditions where moose appear.
It can also be looted from

 [Crestfall Salvage],

 [Dread Chain Salvage], and

 [Jorundall Salvage].
Pet Journal
The playful kicks of these baby moose are enough to knock an orc flat on his back.
Battles
Patch changes
External links
Battle pet types
Beast battle pets

Archetype of Cunning

Archetype of Discovery

Archetype of Predation

Baby Stonehide

Bloodfeaster Spiderling

Blushing Spiderling

Copperfur Kit

Corpulent Bonetusk

Goldenpaw Kit

Green Viperid

King Viperid

Momma Vombata

Red Viperid

Rosetipped Spiderling

Ruby Baubleworm

Rustfur Kit

Sable

Tarachnid Ambusher

Tarachnid Stalker

Topaz Baubleworm

Tunneling Vombata

Turquoise Baubleworm

Verdant Kit

Viperid Menace

Vombata Pup