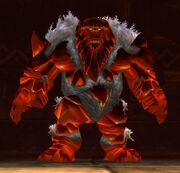 Bael'Gar is a molten giant mini-boss found in Blackrock Depths at one end of the Dark Iron Highway. Tinkee Steamboil wants Bael'gar dead.
Background
Bael'Gar resides in the Depths of Blackrock: A being of pure flame, born of the fires of Ragnaros. - Cyrus Therepentous
Adventure Guide
The monstrous molten giant Bael'Gar lumbers across the Dark Iron Highway, a stunning feat of dwarven engineering carved into Blackrock Depths. Ragnaros pulled the giant from the heart of the Firelands to guard a massive sealed door at one end of the highway. According to legend, only the Firelord and the Dark Iron clan's highest-ranking members know what lies beyond the mysterious gate.
Abilities
  Summon Spawn of Bael'gar  — Summons 1 Spawn of Bael'Gar in a selected area to aid the caster in battle for 3 min. The violent summoning also inflicts 1388 to 1612 Fire damage to enemies in the selected area. 
  Magma Splash  — Deals Fire damage to the current target and additional Fire damage every 3 sec for 24 sec. 
Objective of
Loot
Patch changes
External links