Bael'dun Digger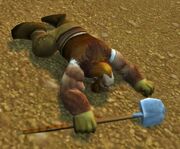 Bael'dun Diggers are dwarves found in Mulgore at the Bael'dun Digsite. They were once alive but as of Cataclysm, they are now corpses killed by the land in revenge.
Drops
The subject of this section was removed from World of Warcraft in patch 4.0.3a.
Notes
The Cataclysm version's name can be seen on the minimap with humanoid tracking.
Patch changes
Patch 4.0.3a (2010-11-23): Replaced by untargetable dead versions.

External links