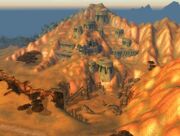 Bael Modan Excavation (or Bael'modan Digsite)[1] is the dig site below Bael'dun Keep and part of Bael Modan in the Southern Barrens. It's currently being attacked by tauren raiders with Bael'dun Excavators defending the area.
NPCs
Notes
A cave entrance has been added to the area, but has collapsed by the Cataclysm.

There is an ancient titan complex and research facility under Bael Modan. It seems likely that there are many relics and much knowledge to be discovered deep beneath the surface.[2]
According to a Bael'dun Excavators, they dug up something that should've stayed buried.

Interestingly, the ruins contain cobra statues.
This area was present in the Southern Barrens warfront.
Patch changes
Patch 4.0.3a (2010-11-23): Area given its own subzone name.

Was just part of Bael Modan prior to this.

References
External links
| Southern Barrens | Southern Barrens warfront |
| --- | --- |
| | |