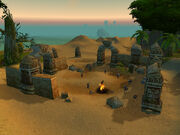 Bal'lal Ruins are ancient troll ruins located near the northwestern coast of Stranglethorn Vale, north of Grom'gol Base Camp and located on the coast of the Vile Reef. A number of Bloodscalp trolls reside in what's left of the ruin.
Bal'lal Ruins dig site
The ruins is a troll archaeology dig site.
External links