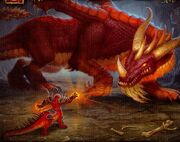 Baleflame is a red dragonspawn found at Vermillion Redoubt in the Twilight Highlands and inside the Grim Batol instance. Baleflame assisted in killing Obsidia.
Abilities
  Cleave — Inflicts 110% of weapon damage to an enemy and its nearest allies, affecting up to 3 targets. 
  Shield Slam — Inflicts damage to an enemy, stunning it for 2 sec. 
  Sunder Armor — Hacks at an enemy's armor, reducing it with each application of Sunder Armor. Can be applied up to 5 times. Lasts 20 sec. 
Quests
In the RPG

This section contains information from the Warcraft RPG which is considered non-canon.
Baleflame serves the powerful red dragon Garshilan as a subcommander. She is a female dragonspawn flametongue and a commander of the Red Dragonspawn Patrol of Grim Batol.[1]
Patch changes
See also
References
External links
| Twilight Highlands | Twilight Highlands | Twilight Highlands | Grim Batol |
| --- | --- | --- | --- |
| | | | |
Primary dragonflights
Other dragonflights
Red Dragonflight

Groups