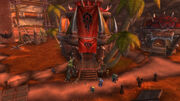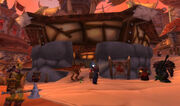 The Bank of Orgrimmar is the bank located in Orgrimmar and is considered a heavily populated bank. Before the implementation of several mailboxes throughout Orgrimmar, it used to be a heavily populated place due to it hosting the only mailbox in the city (besides a mailbox at the gates between the Valley of Honor and The Drag). A regular habit regarding this bank is Horde players constantly running around on its roof.
In Cataclysm, the bank got a redesign and was relocated. Grommash Hold now occupies its original location.
Inhabitants
Guards
Bankers
Removed
The subject of this section was removed from World of Warcraft in patch 6.0.2.
Patch changes