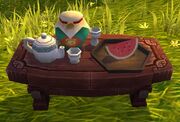 Banquet of the Brew grants a stat buff based on class specialization, for example: a Blood Death Knight would receive a stamina buff, while a Retribution Paladin would receive a strength buff.
Stat buffs granted are:
Using the Banquet creates a temporary fixed device in front of the caster that other party/raid members can use to eat. For larger groups, the
 [Great Banquet of the Brew] feeds 25.
Source
This item is created with

[Way of the Brew] (575); taught by Bobo Ironpaw in the Valley of the Four Winds.
This item is created 5 at a time.
Patch changes
See also
Alternative Banquets:
External links