For the Furbolg tribe, see Barkskin tribe. For the pet battle ability, see

[

Barkskin

]

.
Barkskin

Level 24 druid ability
1 min cooldown
Your skin becomes as tough as bark, reducing all damage you take by 20% and preventing damage from delaying your spellcasts. Lasts 8 sec.

Usable while stunned, frozen, incapacitated, feared, or asleep, and in all shapeshift forms.



Rank 2 (Level 44):




Duration increased by 4 sec.

Usable by
Class
Druid
Properties
School
Nature
Cooldown
1 minute
Other information
Level learned
24
Improvements

[

Brambles

]

Related buff
Barkskin is a level 24 druid ability.
Tips and tactics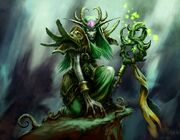 This spell gives you the opportunity to cast a spell without suffering pushback.
This spell is especially useful for casting

[

Tranquility

]

and

[

Hurricane

]

, as they are very expensive, and Tranquility in particular has a long cooldown. Even though you can still be interrupted by counterspell mechanics, Barkskin will allow the full duration of the spell to take place in lieu of damaging attacks.
Barkskin has no global cooldown, so you can add it into macros to cast it automatically when using the aforementioned skills, or any other combination, such as

[

Frenzied Regeneration

]

.
In PvP, using Barkskin when under

[

Cheap Shot

]

or

[

Kidney Shot

]

by a rogue, or under

[

Hammer of Justice

]

or

[

Fist of Justice

]

by a paladin, may give you the edge to survive the encounter, especially if caught in caster form.
Notes
Inversion
Every spell can have a reverse reaction from that originally intended, an example of this is the barkskin spell. Malfurion Stormrage developed a reverse effect to use against the Burning Legion. This variation of the barkskin spell also hardens the targets skin, but at the same time makes the target unable to move, turning him into a statue.[1]
Patch changes
See also
References
External links