| | |
| --- | --- |
| | This article falls within the scope of the Battle for Azeroth subzone project. |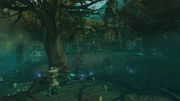 Barrowknoll Cemetery is a graveyard found in eastern Drustvar. The spirits of the dead lurk around the grounds. The cemetery is crawling with

 [Gravebloom], an herb that grants the living the ability to see spirits.[1] Its keeper was Brutus Thornton.
Graves
Whispers
Walking around the cemetery may trigger whispers from a Mysterious Voice and a Ghostly Follower.
Mysterious Voice
We are the lucky ones. Not you. Not yet.

Her blood is making him stronger. Yours will, too.

I only wanted to help.

The burning ones kept balance. Lost now... lost.

The world will burn with the beauty that is to come.

She seeks that which must be earned by sacrifice.

Embrace your fate. All will drown.

Her whispers echoes loudest of all.

Their victory is closer than you know.

The cracks widen.

Night falls. Her song will end.

Your pride led to all of this.
Ghostly Follower
You feel eyes upon you.

You are being watched.

You hear faint laughter.

I know the things you've done.

Has she betrayed you yet? She will...

He's awake now. And he's noticed you.

Tell my Daddy I forgive him.

The Master waits for you to join him...
References