The Battle.net Balance, previously known as Blizzard Balance, was made available to store virtual currency purchased with real money to buy game-related services (Character Transfers, digital products like companions). The feature was first introduced with the Diablo III beta test and later released in the US region on February 6th, 2012. A couple of days later on February 8th, 2012, the feature was release for the Europe region. The service was renamed to Blizzard Balance on March 23, 2017, following the rebranding.[1] On March 31, 2021, it was reverted back to the Battle.net brand.
World of Warcraft patch 7.1.5 included functionality that allowed the WoW Token to be redeemable towards the balance instead of just game time. The change was debuted on February 6, 2017, in the Americas region and February 9, 2017, for the European region.
As of April 19, 2018, Blizzard Balance can now be gifted to others.[2]
Limitations and Restrictions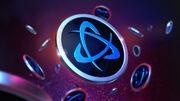 The Blizzard Balance has some limitations and restrictions.[3]
Funds added to Blizzard Balance are not refundable (except as otherwise provided by law), and cannot be converted into cash. Blizzard Balance can only be used to buy designated Blizzard Entertainment products and services.
Blizzard Balance can only be purchased and used with your country's currency.
Blizzard Balance is non-transferable. However, the Blizzard Shop allows you to purchase some items (such as digital games and World of Warcraft game time) as gifts you can share with others.
The maximum amount of Blizzard Balance you can have on your account is $350, or $110 if you don't have an Authenticator linked to your account.
You can't use Blizzard Balance to purchase items from the Blizzard Gear Store, in-game products for Hearthstone on mobile devices, or World of Warcraft subscriptions—though you can buy game time in the Blizzard Shop.
You can't use Blizzard Balance to make purchases on the PlayStation Store or Xbox Marketplace.
Blizzard Balance can't be combined with another payment method to make purchases.
As with any payment method, local taxes may apply to purchases made with Blizzard Balance.
You cannot make partial payments with Blizzard Balance. If you don't have sufficient balance to cover the purchase, you must add additional Blizzard Balance funds or use another method of payment.
Note: To ensure the security of every Blizzard Balance transaction, there may be a delay of up to three days after purchase before Blizzard Balance becomes available for use. Direct debit users can use PayPal as an alternative method of payment.
See also
References
External links
News
Main

Teams

Products

Games

Applications

Mobile apps

Blogs

Web series

Other