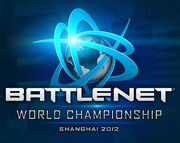 The Battle.net World Championship Event was the championship for various Blizzard game tournaments around the world introduced in 2012. The latest and last tournament was held in 2013.
History
2012
2012 StarCraft II World Championship Series included over 30 LAN events.[1]
2012 World of Warcraft Arena World Championship was played during the Mists of Pandaria expansion.[2]
Early 2012
From MMO Champion (from interview with Ilja Rotelli, Blizzard's Global Director of Community & eSports, by Team Liquid):[3]
The prize pool will be comparable to the Battle.net continental invitationals in 2011.
Qualifications will begin in Q2 this year.
The entire 2012 season is going to be played with Wings of Liberty.
There will be five regional championships, with the final being held in Asia.
There will also be national championships before the regionals.
Blizzard won't be running all of the matches, instead they will be working with existing eSports organizations.
There will be more matches and ways to see them than there were for BlizzCon 2011.
The World of Warcraft Arena World Championship tournament was also to be hosted, but at the end of the year in Shanghai, China. It took place on November 17-18, 2012.
Late 2012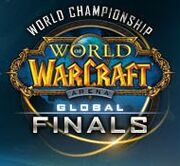 Dungeon Challenge Event - Day 1

Two five-player teams from the raiding guilds in attendance, "Stars" and "Supreme Quicksand", was conducted as simultaneous Challenge Mode runs to prove who the fastest dungeon runners in the East really are. Each guild had to select a single team and class composition to use throughout the event and needed to be prepared to take on Shado-Pan Monastery, Scarlet Halls, and Stormstout Brewery. Final times were tallied to determine the winning guild.

Live Raid with Stars - Day 2

"Stars" was putting their considerable abilities on display as they race through the Heroic version of Mogu'shan Vaults.

World Championship World of Warcraft Arena Global Finals - Day 3

Ten top Arena teams—two from each global region—are came to Shanghai to face off for the title of "2012 Global Champion". They have been vying for international glory and their share of a prize pool totaling $189,000.
First, there was a series of best-of-five round robin matches. Then, the top four teams moved on to the double-elimination championship bracket to see which team is worthy of the title of Global Champion, and a championship purse worth over $100,000.

First Place - $105,000
Second Place - $45,000
Third Place - $27,000
Fourth Place - $12,000
Gallery
See also
References
A portion or version of this article was merged from

 WoWWiki. See list of authors.
External links
News