The Battle.net desktop app is a launcher application for Battle.net 2.0 games, including World of Warcraft, which replaced the Blizzard Launcher. An initial version was released in August 2013. The application unifies the login procedure for all supported games, essentially removing the need to re-enter account, password, and authenticator information when logging into a game, and is capable of displaying recent news, patch notes, and promotions relevant to each title. The app also has a chat functionality, which was enabled on 3 April 2014.[1][2] There are plans to add support for the original Blizzard games.[3] On 23 March 2017, version 1.8.0 was released that included Blizzard's plan to transition from the Battle.net brand to a new name of this application which is Blizzard Desktop app. On 14 August 2017, Blizzard reversed the removal of the "Battle.net" moniker.[4]
The Blizzard Battle.net desktop app has the feature for Voice Chat, Channel (or group) Chat and even Streaming Games to Facebook.[5] The open beta for the application started on October 5, 2017 and release of 1.9.1 on October 19, 2017, introduced new features such as Player Profiles and Avatars,[6] to appear offline,[7] the Social Tab and Groups,[8] gifting,[9] and the shop update.[10]
On November 1, 2019, a new beta was pushed that completely refreshes the look for the desktop app, including going back to the "Battle.net" brand.[11] The refreshed look was released on January 14, 2021.[12]
Games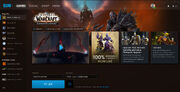 The following games are available from the app:
Notes and trivia
Among the 2017 April Fools were a joke about bringing back a "Classic Battle.net® Theme" to the desktop app, with several jokes about it requiring "MS-DOS 5.0 or higher or Windows(R) 95/98" and being compatible with pagers.
Often called Blizzard Launcher from fans, not to be confused with the deprecated Blizzard Launcher.
The desktop app has been renamed multiple times throughout its life. It originally launched as Battle.net desktop app, then Blizzard desktop app and Blizzard Battle.net desktop app following the 2017 rebrand and back to "Battle.net" on March 31, 2021.

The launcher has also been referred to as Blizzard Battle.net App.

The original release of Destiny 2 in 2017 added the game to Battle.net as a PC exclusive.[13] However, in January 2019, Bungie separated from Activision and acquired the rights to the Destiny franchise[14] and later announces, in June 2019, the move of Destiny 2 from Battle.net to Steam with a release date on September 17,[15] but later postponed for October 1.[16] It was removed from the desktop app on September 30, 2019.[17]
Gallery
See also
References
External links
Main

Teams

Products

Blogs

Web series

Other