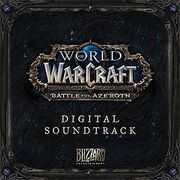 The World of Warcraft: Battle for Azeroth Soundtrack is the digital soundtrack for World of Warcraft: Battle for Azeroth. It was released together with the collector's edition of the game, provided as a reusable code. It was released on Spotify on August 19, 2018.[1]
Official description
The time of peace has passed. The battle for Azeroth has begun. Kingdoms shall tremble as the Alliance and the Horde clash across the world, warring for control of new lands, new allies, and the blood of Azeroth itself.
Hymns of the sea echo from the shores of Kul Tiras, while songs for long-dead emperors ring out across the ancient empire of Zandalar. As skirmishes rage on newly discovered islands, dark melodies emerge from the depths of Azeroth, seducing heroes with whispered promises of power and glory. Prepare yourself. The symphony of war has begun.
Track list
| # | Title | Time |
| --- | --- | --- |
| 1 | Before The Storm | 11:17 |
| 2 | Conquered Shores | 5:16 |
| 3 | What Makes Us Strong | 4:21 |
| 4 | Pride of the Seas | 6:31 |
| 5 | Time & Tide | 6:15 |
| 6 | Might of Zandalar | 6:05 |
| 7 | The Grand Bazaar | 5:39 |
| 8 | Waycrest's Curse | 3:06 |
| 9 | Beneath the Waves | 5:19 |
| 10 | The Power of Blood | 6:26 |
| 11 | Stormsong Valley | 7:25 |
| 12 | Enmity | 6:02 |
| 13 | Freehold | 5:32 |
| 14 | Winds of Vol'dun | 5:31 |
| 15 | Heart of Sethraliss | 4:10 |
| 16 | A Loa's Bargain | 3:12 |
| 17 | Uncharted Islands | 4:41 |
| 18 | Crimson Forest | 5:54 |
| 19 | A Good War | 5:58 |
| 20 | Return to Arms | 3:52 |
Credits
Composers
Additional Music
Album Produced by
Music Director
Orchestrators
M. W. Alexander

Penka Kouneva

Nicholas Greer
Recording
Additional Mixing
Music Assistant
Album Production Coordination
Music Producers
References
External links
Blizzard Entertainment

 Official Code Redemption

Spotify 

Apple Music