This disambiguation page lists articles associated with the same title.

The following is a list of links to pages that might share the same title. If an internal link led you here, you may wish to change the link to point directly to the intended article.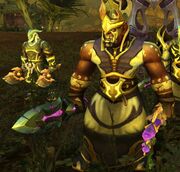 Battle mage (also written as battlemage, battle-mage, or battle-magus) refers to several groups of melee spellcasters. They mainly use swords, but some use staves.
Known
Named
| Name | Organization | Location | Status |
| --- | --- | --- | --- |
|  Battlemage Arynna | Shattered Sun Offensive | Isle of Quel'Danas | Alive |
|  Battlemage Vyara | Scryers | Shadowmoon Valley | Alive |
|  Battle-Mage Dathric | Kirin Tor | Netherstorm | Active |
|  Magister Surdiel | Sunreavers | Unknown | Unknown |
|  Magister Savarin | Sunreavers | Durotar | Alive |
|  Magistrix Caradess | Sunreavers | Unknown | Unknown |
|  Magistrix Erembria | Sunreavers | Unknown | Unknown |
|  Magister Dalhyr | Sunreavers | Unknown | Unknown |
|  Magistrix Aldessia | Sunreavers | Unknown | Unknown |
|  Arcanist Braedin | Silver Covenant | Unknown | Unknown |
|  Arcanist Paharin | Silver Covenant | Unknown | Unknown |
|  Arcanist Dulial | Silver Covenant | Unknown | Unknown |
|  Arcanist Iramhir | Silver Covenant | Unknown | Unknown |
|  Arcanist Laniria | Silver Covenant | Unknown | Unknown |
|  Arcanist Nazalia | Silver Covenant | Unknown | Unknown |
|  Battle-Mage Maraa | | Unknown | Unknown |
|  Dar Rummond | Baradin's Wardens | Tol Barad Peninsula | Alive |
|  Kaellin Tarvane | Baradin's Wardens | Stormwind City | Alive |
|  Maven Zara | Baradin's Wardens | Tol Barad | Alive |
|  Rhagha | Hellscream's Reach | Tol Barad | Alive |
|  Zugra Flamefist | Hellscream's Reach | Orgrimmar | Alive |
|  Tulgar Flamefist | Hellscream's Reach | Tol Barad Peninsula | Alive |
|  Battlemage Thelode (beta-only) | Alliance | | |
Unnamed
Scarlet battle mage
Main article: Scarlet battle mage
Blood elf battle mages
High elf battle mages
Human battle mages
Nightborne battle mages
Ogre battlemages
Eredar, draenei, and Lightforged draenei
Worgen
Other
Items
Notes
See also