Ben Brode

Role
Game Director

Brode/activity Most recent posts on WoW Forums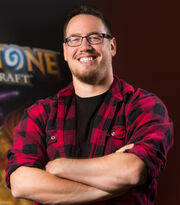 Ben Brode is a former member of Team 5 and the game director of Hearthstone.[1]
He first joined Blizzard Entertainment in 2003 as a tester on Warcraft III, followed by a position in quality assurance on World of Warcraft. He later became part of Blizzard's Creative Development department, and was in charge of licensed products. Brode then joined the Hearthstone team and became Lead Designer, before becoming Game Director in 2016.[2] He left Blizzard on April 20, 2018 in order to help start a new company.[3] This company was later revealed as the game studio Second Dinner, with Brode as Chief Creative Officer.[4]
Trivia
References
External links