Binding of Cyclarus
Use: Teaches you how to summon a Gust of Cyclarus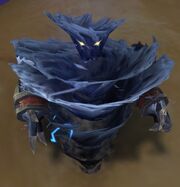 Binding of Cyclarus drops from Cyclarus in Darkshore. It summons the Gust of Cyclarus.
Pet Journal
When Cyclarus came to Darkshore, small cyclones appeared all over the place. Some of them dissipated over time, others found their way back to Cyclarus and were absorbed into the surrounding winds.
Battles
Elemental: Ignores all negative weather effects. Enemy pets can still gain the beneficial effects from weather when facing an elemental.
Patch changes
External links
Battle pet types
Flying battle pets

Archetype of Motion

Archetype of Satisfaction

Battie

Bloodsucker Vespoid

Dusty Sporeflutterer

Enraged Poultrid

Fluttering Glimmerfly

Foulwing Buzzer

Fuzzy Shimmermoth

Gilded Wader

Helpful Glimmerfly

Larion Pouncer

Multichicken

Necroray Spawnling

Pearlwing Heron

Scarlet Proto Avian

Sinfall Screecher

Stony

Vibrant Glimmerfly

Wader Chick

Wild Etherwyrm