For the hunter artifact trait, see

[

Bird of Prey

]

.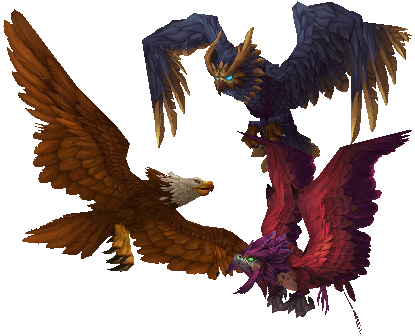 Bird of prey is the classification for birds that do not belong to the carrion bird group. This group includes owls, eagles, hawks, axebeaks, some rocs (most rocs are considered to be carrion birds) and, oddly enough, several parrots and seagulls.
Types
Birds of prey are cunning pets and can

[Snatch] an enemy's weapon, disarming them for 6 seconds, making them especially useful against some classes in player-versus-player combat.
Patch changes
External links

Petopia
 

Basic
Special

Acid Bite

Chi-Ji's Tranquility

Defense Matrix

Dragon's Guile

Feather Flurry

Fleethoof

Furious Bite

Grievous Bite

Infected Bite

Nether Energy

Niuzao's Fortitude

Obsidian Skin

Scale Shield

Spirit Pulse

Toxic Sting

Winged Agility

Exotic

Calcified Carapace

Dune Strider

Shimmering Scale

Bonus
Specialization
Creature group
Beast creatures

 

Arthropod

Arachnid
Crustacean
Insect

 

Mammal

Carnivoran
Ungulate

Bovids
Camelids
Cetaceans
Proboscids
Swine