Bittertide Hydras are hydras found in and around Bittertide Lake in Sholazar Basin.
Objective of
Trivia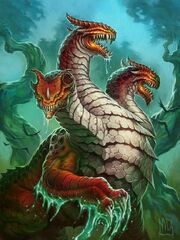 The Bittertide Hydra appears as an epic card in the Journey to Un'Goro expansion for Hearthstone. The flavor text reads: "It's actually only the middle head that's bitter. The others are sweet and spicy."

Notably, Hearthstone's Bittertide Hydra is depicted as a four-legged Draenic hydra rather than the two-legged Azerothian variety.
Patch changes
External links