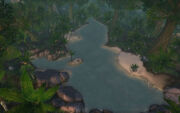 Bittertide Lake is a lake inhabited by hydra, found in northwestern Sholazar Basin and fed by an unnamed river from the North Sea. The river that feeds the lake then continues on its way to feed into the River's Heart. Along the northern bank is a gorloc village, Mistwhisper Refuge, which stretches all the way to Glimmering Pillar.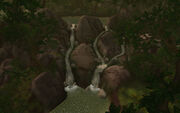 The Bittertide Falls,[46, 46]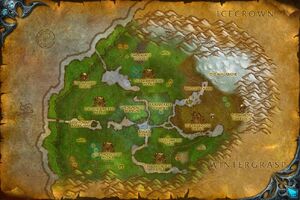 although referred to by name, does not actually exist as a subzone. These falls can be found a little east of the lake, towards the River's Heart.
Trivia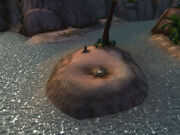 On the small island in Bittertide Lake, a hatch with a glowing window can be found in the ground. Upon mouseover, the numbers "5 9 16 17 24 43" appear. The whole island itself is a reference to Lost, an American serial drama television series in which the survivors of a plane crash are stranded on an island. The numbers "4 8 15 16 23 42" are seen in Lost, which are only 1 digit smaller than those seen in-game.
External links