Black Empire Obelisk
For the obelisks that appear during  [120] 

Whispers in the Dark

, see Black Empire Obelisk (Chamber of Heart).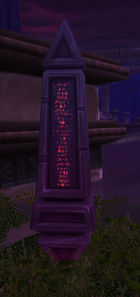 Black Empire Obelisks appear throughout Uldum and the Vale of Eternal Blossoms during Black Empire Assaults. These structures anchor Ny'alotha to reality[1] and herald the appearance of the Old Gods' armies: k'thir and n'raqi conjurers use the obelisks to establish footholds on Azeroth and usher in more of the Old Gods' minions and structures.[2][3]
Objective of
Uldum
Vale of Eternal Blossoms
Patch changes
References
^  [120] 

Whispers in the Dark

: Wrathion says: The obelisks are what anchor him here. We need to destroy them!
^  [120 Daily] 

Anchors of the Black Empire

^  [120 Daily] 

Pillars of Oblivion
External links