Black Rook Hold
Black Rook Hold
BRH



Black Rook Hold loading screen

Location
Val'sharah, Broken Isles
Race(s)
 Mo'arg
 Demon
Nathrezim
 Night elf
 Undead
End boss
Kur'talos Ravencrest
Instance info
Type
Dungeon
Advised level
110
Player limit
5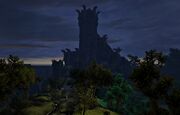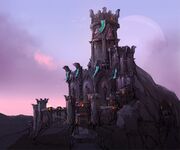 Black Rook Hold (or simply Black Rook)[1] was carved out of the mountain to be an unassailable fortress. This elven structure served as a bulwark against the Legion during the War of the Ancients, until a shadow fell upon it. Black Rook Hold is a dungeon in World of Warcraft: Legion. You start in the catacombs below Black Rook Hold and work your way through the outside to the top of the spire.[2][3]
Background
War of the Ancients

This section concerns content related to the Warcraft novels, novellas, or short stories.
Black Rook Hold was, during the War of the Ancients, a defensive gathering place for the night elves to strategize and plan the stand against the Burning Legion. Lord Ravencrest was the head of this monumental structure. The hold itself was carved from the great mountain of black stone. Over the centuries, the Ravencrest bloodline continued to carve out corridors and other areas of the keep. In Lord Ravencrest's generation, the hold was complete. It's shape and color resembles the shape of the rook chess-piece and the famous, but ancient, crest of a black raven soars over the hold itself. Both signs finally gave it it's name, black rook hold. The structure stood in terms of magnificence second only to the palace of Zin-Azshari. The hold was thought to have been destroyed after the well exploded during the Great Sundering, but nothing is for sure. The hold is said to have the strength to withstand an attack from the Burning Legion for days, giving time for it's inhabitants to make a stand — or flee to safer ground.[4]
Legion

This section concerns content related to Legion.
After stealing the corpse of Illidan Stormrage from the Vault of the Wardens, Gul'dan conducted a ritual to separate his soul from his body. This energy brought the souls of the Ravencrest clan back to their ancestral home.[5] The ghosts of the Hold's forces have been risen by Gul'dan, from the lowliest soldier to Desdel Stareye and even Lord Ravencrest himself, to protect the secrets within the tower. These undead night elves cannot see the living for what they truly are and believe them to be demons[6] as they eternally relive the horrors of the War of Ancients.[7]
Adventure Guide
Carved from the greatest mountain of Val'sharah by ancient elven masons, Black Rook Hold stood as a bulwark against the Burning Legion during the War of the Ancients. The nigh-impregnable fortress is also the ancestral home of Lord Kur'talos Ravencrest, one-time mentor of Illidan himself. But since the latest Legion attack, a strange dark energies emanates from the Hold, and restless dead plague the surrounding lands.
Maps and subregions
Maps
Subregions
Loot
Quest guide

Please add any available information to this section.

NPCs

Please add any available information to this section.

Achievements
Notes
Patch changes
References
External links