Blackrock Razor
Blackrock Razor
Use: Carefully crate the restored artifact.
"Artifact details have already been logged in your Archaeology Journal, under the Completed Artifacts tab."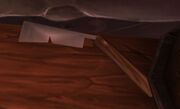 Blackrock Razor is a common Draenor Clans archaeology artifact, created from 50 Draenor Clans Archaeology Fragments. One
 [Draenor Clan Orator Cane] may be used to solve this artifact.
Description
Male orcs of the Blackrock Clan never cut their hair until they come of age, at which point their head is shaved and their role in this extremely regimented society is determined. This ancient switchblade is forged of blackrock and embellished with jewels, likely used by a prominent family for many generations of initiation.
Patch changes
External links