Blade Flurry

Blade Flurry
Level 48 Outlaw rogue ability
10 sec cooldown
Requires One-Handed Melee Weapon
While active, your melee attacks also strike all nearby enemies for 30% of normal damage, but your Energy regeneration is reduced by 20%. Lasts until cancelled.

Usable by
Class
Rogue
Properties
School
Physical
Cooldown
10 seconds
Radius
8 yd
Other information
Level learned
48
Related buff
Blade Flurry is a level 63 Outlaw rogue ability. While active, all of the rogue's attacks strike all nearby enemies within 8 yards for 30% damage, but the rogue's energy regenerates 20% more slowly. Blade Flurry is one of the few area of effect abilities available to Outlaw rogues.
This effect has no fixed duration but can be toggled on and off. After being cancelled, it goes into a 10 second cooldown (similar to

[Stealth]).
Notes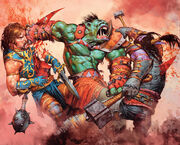 Does not break

[

Stealth

]

.
Only 30% of the direct damage of attacks is transferred through Blade Flurry; DoTs and other effects such as stuns will not be applied to additional targets.
Targets must be within 8 yards and in the rogue's line of sight to be hit by Blade Flurry.
Tips and tactics
Only use this when fighting more than one foe. It provides no benefit against single targets, and the reduced energy regeneration is disadvantageous.

[

Killing Spree

]

works with Blade Flurry, so popping both can give multiple large hits on two nearby enemies each, and as such is very useful when fighting multiple mobs.
Not recommended for use in tight places where fragile crowd control is in effect (

[

Sap

]

,

[

Polymorph

]

, etc).
Trivia
Patch changes
See also
External links