Blademaster Okani
Blademaster Okani is an ankoan warrior and the leader of the Waveblade clan. He guides his brethren in their crusade against the naga and Queen Azshara from Mezzamere in Nazjatar. Eventually, Okani was crucial in recruiting the Alliance as new allies to the cause when they discovered the landwalkers shipwrecked and surrounded by naga. With all now in place, the Blademaster is dedicated to fulfilling his clan's oath of vengeance and upholding the honor of his clan.
History
Okani became the leader of the Waveblade Ankoan when his predecessor was slain by Queen Azshara's forces. The ankoan had battled the naga for some time, but this proved to be the final straw. As the new head of his clan, Blademaster Okani led the Waveblade into the home of their enemies, Nazjatar itself. Though they were severely outmatched, the Waveblade resigned themselves to vengeance or an honorable death.[1]
Despite the odds, Okani and his people established themselves at Mezzamere. From this base, they continued their war until the time when Queen Azshara parted Nazjatar's seas, making it dry land for the first time in millennia. At the same time, the Alliance and Horde also arrived in the area, stranded by Azshara's actions and surrounded by hostile naga. Okani would take a special interest in the Alliance, and he approached Lady Jaina Proudmoore and King Genn Greymane as they searched for a safe haven.[2] Recognizing their common goals, Blademaster Okani offered to join with the Alliance forces, bringing them back to Mezzamere and safety.
With their new allies, the Waveblade began to push back against the naga and deal blows to Queen Azshara's plans. The Blademaster continued working alongside the Alliance's champions and leaders, and accompanied them when they secured the Tidestone of Golganneth from the enemy.[3] With this, the way to Azshara's Eternal Palace was opened, allowing for the final assault to proceed.
Locations
Quests
Objective of
The subject of this section did not make it out of the PTR stages.
Quotes
Gossip
Mezzamere
Until the tides no longer ebb and flow, we will fight to the end, to extinguish the Vainglorious.

 Tell me about the Waveblade Ankoan.
Post- [120] 

A Way Home
Our story is one of sadness. Perhaps it is better to save it for later, after you and your companions have recovered from your own loss.
Deepsea Refuge
Azerite is unlike anything I have ever seen before.
On-click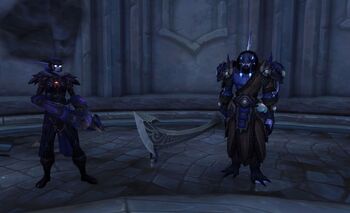 Greetings
Speak your mind.
What do you ask of the Waveblade?
We must remain alert.
Greetings, traveler.
Farewell
My clan will survive.
Azshara must answer for her crimes.
Never break an oath.
Strike true.
Dialogue
Main article: Up Against It (Alliance)#Notes
Main article: Where the Road Leads#Notes
Notes
Patch changes
References
^  [120] 

Bound by Honor

^  [120] 

Up Against It

^  [120] 

Changing Tides
External links
| Blademaster Okani | Generic name |
| --- | --- |
| | |