For Blanchy's character biography, see Blanchy.
Blanchy's Reins
Mount
Use: Teaches you how to summon this mount.
Requires Apprentice Riding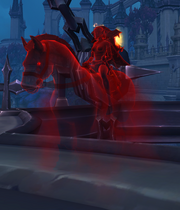 Blanchy's Reins summons Sinrunner Blanchy, a sinrunner mount.
Source
This mount is obtained by interacting with Dead Blanchy in the Endmire in Revendreth and offering her 6 different items, in order. The player can only give her one gift per day, but it does not have to be done over 6 consecutive days. All of the items can be collected beforehand and do not need to obtained on the same day that they are given to Blanchy. Dead Blanchy has a 1-2 hour respawn timer, with a 5 minute timer to despawn after getting stopped by a player, which is indicated by emotes.
After giving Dead Blanchy the Dredhollow Apples, the player automatically unlocks this mount.
Mount Journal
In life, Blanchy appeared to be an affectionate, well-behaved horse of excellent disposition and appetite. What evils must she have committed in secret to have earned her place among the condemned souls of Revendreth?
Notes and trivia
During the alpha, this item was named Sinrunner Reins and would summon Blanchy the Sinrunner.
Players who mount up on Sinrunner Blanchy and ride to the location of her death at the Jansen Stead in Westfall will have the mount despawn out from under them:

Sinrunner Blanchy screams in anguish and then fades from view.
Patch changes
External links
Mount family

Dragonkin
Feathermane
Invertebrate
Mammal
Reptile
Other

Specific types

 

Horse mounts

Normal

Skeletal

Related
animals

Magical
Class