Objectives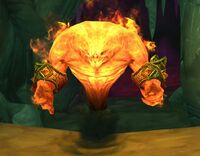 Kill Blazerunner.
Description
I'm still a bit concerned about these fire elementals, <name>. One last request: head to the top of Fire Plume Ridge, and kill the one they call Blazerunner. He's the biggest and strongest of all the fire elementals in the crater. With him gone, I'll be able to sleep much better.
Rewards
You will also receive: 80
Progress
Please, <name>. Head up to the top of Fire Plume Ridge and show Blazerunner an early retirement.
Completion
At last, Blazzerunner is extinguished. Thanks <name>... he was driving me batty.
External links