Blessed Blade of the Windseeker

Start
Highlord Demitrian
End
Advisor Sevel
Level
10-45
Category
Shaman Campaign
Experience
15,480
Rewards
19 40
Previous
  [10-45] 

Servant of the Windseeker

Next
  [10-45] 

The Skies Above
Objectives
Locate the lost blade of the Windseeker.
Description
So the Earthen Ring wishes to resurrect my master?
<Highlord Demitrian laughs maniacally.>
I knew this day would come! At last, humanity understands the power of the Windseeker!
When Prince Thunderaan was slain at the hands of treacherous mortals, his soul was trapped within the sacred blade Thunderfury.
To resurrect my master you will need to find his sword and return it to Skywall. Last I heard, the betrayer who stole my master's sword traveled to the Broken Isles to fight demons.
Rewards
You will receive:
Progress
Have you found the key to resurrecting Thunderaan?
Completion
This blade could indeed be the key to resurrecting the Windseeker. However, it has been damaged and the elemental soul within has diminished in power.
Time may very well be running out...
Notes
The blade can be found in Azsuna in the Fiendish Vault at [32, 48]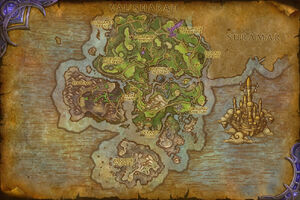 in front of Ragemaw.
Progression
  [10-45] 

A Ring Unbroken

  [10-45] 

The Elements Call...

Acquire the chosen artifact:
  [10-45] 

A Ring Reforged

  [10-45] 

Azeroth Needs You

Special daily and additional artifacts:

  [10-45 Daily] 

Supply Dropped

  [10-45] 

Aggra's Guidance

  [10-45] 

Expanding Your Horizons

  [10-45] 

Your Fullest Potential

  [10-45] 

Call of the Earthen Ring

(optional breadcrumb)

  [10-45] 

Nobundo Awaits

  [10-45] 

The Ritual of Tides

Complete all of:

  [10-45] 

Rise, Champions

  [10-45] 

Champion: Stormcaller Mylra

&   [10-45] 

Champion: Duke Hydraxis

  [10-45] 

Summoner Morn

  [10-45] 

Recruiting The Troops

  [10-45] 

Troops in the Field

  [10-45] 

Tech It Up A Notch

  [10-45] 

Mission: Elemental Diplomacy

  [10-45] 

Servant of the Windseeker

  [10-45] 

Blessed Blade of the Windseeker

  [10-45] 

The Skies Above

  [10-45] 

Recharging the Blade

  [10-45] 

Return of the Windlord

  [10-45] 

Oath of the Windlord

Complete all:

  [10-45] 

Champion: Celestos

&   [10-45] 

Champion: Nobundo

,   [10-45] 

Recruiting Earthcallers

  [10-45] 

The Maelstrom Pillar: Air

  [10-45] 

Mistral Essence

  [10-45] 

Enemies of Air

  [10-45] 

Mission: Investigating Deepholm

Level 45

Patch 7.1.5 campaign

  [45] 

An Urgent Warning

Patch 7.2.0 campaign

  [45] 

Further Advancement

Class mount

  [45] 

Carried On the Wind
Patch changes
External links