Blessing of Freedom

Blessing of Freedom
Level 22 paladin ability
40 yd range
7% of base mana
25 sec recharge
Places a blessing on a party or raid member, granting immunity to movement impairing effects



Unbound Freedom:




and increasing movement speed by 30%



for 8 sec.

Usable by
Class
Paladin
Properties
School
Holy
Recharge
25 seconds
Other information
Level learned
22
Improvements

[

Unbound Freedom

]

Related buff

Blessing of Freedom
Immune to movement impairing effects.
Duration: 8 seconds
Those who walk the path of the righteous need not fear restraint.[1]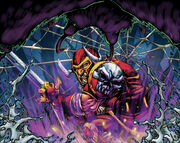 Blessing of Freedom is a level 22 paladin ability.
Tips and tactics
This ability will not remove the

[

Dazed

]

effect caused by running from mobs, or a hunter's

[

Concussive Shot

]

effect.
In Warsong Gulch, when protecting the flag carrier, take note of the number of enemy priests or shaman around before casting Blessing of Freedom. They can easily dispel it. Also, a level 64 mage can spellsteal it.
Patch changes
See also
References
External links