For the rare Challenge Card Brawler's Guild encounter, see Blingtron 3000.
For NPC in the Celestial Tournament on the Timeless Isle, see Blingtron 4000 (NPC).
Blingtron 4000
Toy
Use: Assembles the incredible Blingtron 4000, a robot of infinite wealth. Bling, as he likes to be called, will give out a random gift to anyone who talks to him, but only once per day. Lasts 10 min. (4 Hrs Cooldown)
Requires Engineering (600)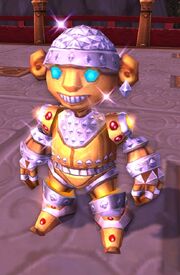 Blingtron 4000 is a Blingtron item crafted by engineers, which can provide the quest


 [10-60 Daily] Blingtron 4000 once a day per account.
Quote
Despawns
Goodbye nearby living beings! My unique presence is requested in another dimension.
Source
This item is created with Engineering (600); taught by engineering trainers.
All required materials but

 [Ghost Iron Bar] and

 [Spirit of Harmony] have multiple ways to craft via using Alchemy Transmutes.
Party Time
Players can now party with Bling, receiving a 60 minute buff named Dressed to Kill. He also plays some dance music in the background.
What is up, my primary <male/female> sibling? Are you ready to appear visually attractive to your species?
 Let's party!
Patches and hotfixes
External links