Blingtron 5000
Toy
Use: Adds this toy to your Toy Box.

Assembles the upgraded Blingtron 5000, a savage, yet generous, robot. While he will give out gifts to players once per day, he will also fight other Blingtron units to the death. (4 Hrs Cooldown)
Requires Engineering (600)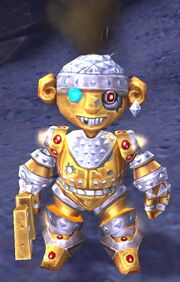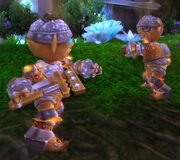 Blingtron 5000 is a Blingtron item crafted by engineers, which can provide the quest


 [10-60 Daily] Blingtron 5000 once a day per account.
If a Blingtron 5000 is placed next to another one, or a

 [Blingtron 4000], the two robots will engage in a fight to the death. The victor will gain a stack of the "Gold Star" buff, which increases size and strength by 10% for each combatant slain.
Quotes
Gossip

There's a party in your heart, and all the bladed weapons are invited. Have a pleasant day.
Despawn

My presence is requested for duty. I must leave immediately.
Source
This item is created with Engineering (1) and taught by Schematic: Blingtron 5000.
Patch changes
External links