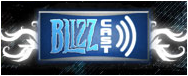 BlizzCast was a series of podcasts sponsored by Blizzard Entertainment with transcripts where they interview developers and other folks involved with and working on Blizzard products. BlizzCast was released on both the US & EU versions of the Blizzard website.
The final episode was Episode 17 released on April 20, 2012. Episode 18 was not an interview but rather a prelude story for Legion.
us.blizzard.com

 BlizzCast US home page
Send feedback to BlizzCast@blizzard.com.
BlizzCasts US

Subscribe
Archive
Episodes 17 - 18
Episode
Time
Size
Date
Transcript/Download
  Episode 18
⇒
1:31:50
210.2Mb
4/27/17
Transcript
Download
We're proud to present: The Tomb of Sargeras, prelude to World of Warcraft: Legion, written by Robert Brooks and narrated by Steven Pacey.
  Episode 17
⇒
11:03
25.6Mb
4/20/12
Transcript
Download
Our own Rob Simpson talks Diablo III item, quest, and sound design with Senior Designer Jason Bender, Senior Sound Designer Kris Giampa, and Lead Content Designer Kevin Martens. What are the best ways to capture the sound of bones breaking? Find out in this BlizzCast 17 video exclusive.
Episodes 13 - 16
Episode
Time
Size
Date
Transcript/Download
  Episode 16
⇒
13:51
16.6Mb
4/28/11
Transcript
Download
Welcome to BlizzCast 16! We're excited to present the first-ever video BlizzCast, now in beautiful full-motion 2D! (Don't forget to wear your 2D glasses.) We've also jam-packed this episode with juicy information on World of Warcraft patch 4.2. Rob sits down with Game Director Tom Chilton to find out what the patch is all about, Lead Quest Designer Dave Kosak lays out info on the new Firelands quest hub, and Lead Content Designer Cory Stockton spits and flows on Ragnaros and the upcoming raid content.
  Episode 15
⇒
148:44
199Mb
11/30/10
Transcript
Download
Welcome to BlizzCast 15! In this episode, we bring you in-depth coverage of the upcoming Cataclysm expansion and discuss everything from world creation to class changes to sound design.
  Episode 14
⇒
31:33
57.7Mb
7/26/10
Transcript
Download
Welcome to BlizzCast 14! In this episode, we're joined by Production Director Chris Sigaty and Game Director Dustin Browder to recap the StarCraft II beta experience and to discuss what players can look forward to once the game is released.
  Episode 13
⇒
52:09
103Mb
2/25/10
Transcript
Download
Welcome to BlizzCast 13! In this edition we are pleased to present our StarCraft II beta special. StarCraft II developers chat about what players can expect now that the beta has begun.
Episodes 9 - 12
Episode
Time
Size
Date
Transcript/Download
  Episode 12
⇒
59:39
109Mb
12/08/09
Transcript
Download
Welcome to BlizzCast 12! In this special edition of BlizzCast we'll be celebrating the 5-year anniversary of World of Warcraft's retail release, as well as the 15-year anniversary of Warcraft: Orcs and Humans by reflecting upon the past, discussing the present, and looking toward the future with some of the masterminds behind the Warcraft franchise.
  Episode 11
⇒
18:46
34.3Mb
10/29/09
Transcript
Download
In our eleventh episode of BlizzCast, we have a roundtable discussion with members of the community team to recap the major happenings, announcements, and other highlights of this year's BlizzCon. Join our discussion as we relive some of our favorite moments from the show.
  Episode 10
⇒
22:37
41.4Mb
8/07/09
Transcript
Download
Welcome to BlizzCast 10! This is Zarhym with the World of Warcraft Community Team. In this episode we'll hear from Lead Encounter Designer Scott Mercer and Senior Game Designer Dave Maldonado about some of the highlights of our recent patch 3.2, Call of the Crusade.
  Episode 9
⇒
10:55
20Mb
4/17/09
Transcript
Download
In this special ninth episode of BlizzCast, we give you a sneak preview of the upcoming World of Warcraft novel, Arthas: Rise of the Lich King, arriving in stores April 21.
Episodes 5 - 8
Episode
Time
Size
Date
Transcript/Download
  Episode 8
⇒
31:36
57.8Mb
3/30/09
Transcript
Download
Continuing our behind the scenes look at Blizzard games and developers BlizzCast 8 features Q&A sessions with World of Warcraft's Tom Chilton, Diablo III's Jay Wilson, and StarCraft 2's Dustin Browder. We finish with an in-depth Diablo III interview featuring developers Julian Love and Mike Nicholson, discussing the special effects that create the visually impressive world of Sanctuary, as well as the latest changes to the game's UI.
  Episode 7
⇒
39:24
72Mb
1/29/09
Transcript
Download
In the seventh BlizzCast, we take time to wrap up the second World of Warcraft expansion with Production Director J. Allen Brack and Lead Game Designer Jeffrey Kaplan. Also in this episode, Crygil sits down with Senior Vice President of Creative Development Chris Metzen to discuss the lore of Wrath of the Lich King.
  Episode 6
⇒
66:18
121Mb
11/1/08
Transcript
Download
In the sixth BlizzCast, we spend a day with a World of Warcraft developer, dig into StarCraft II unit creation, and discuss "bridging the gap" in Diablo character design. The episode wraps with some community Q&A.
  Episode 5
⇒
38:37
70.9Mb
08/27/08
Transcript
Download
This special edition of BlizzCast features a brief recap of events at the recent Worldwide Invitational in Paris, along with an in-depth interview with Jay Wilson, lead designer of Diablo III.
Episodes 1 - 4
Episode
Time
Size
Date
Transcript/Download
  Episode 4
⇒
60:33
110Mb
08/07/08
Transcript
Download
Episode four covers how the music in World of Warcraft has evolved since the game began and also delves into the current state and future plans for professions. The episode then finishes off with answers to questions from our communities.
  Episode 3
⇒
57:12
104Mb
06/01/08
Transcript
Download
Learn about the zerg evolution from the original StarCraft to StarCraft II as well as what it is like to design raids for World of Warcraft and its upcoming expansion, Wrath of the Lich King. On top of that, listen in on our machinima interview followed with further community questions and answers from our devs about our under-development titles, StarCraft II and Wrath of the Lich King.
  Episode 2
⇒
49:05
56Mb
02/22/08
Transcript
Download
Our second episode we will take a deeper look into the origins of Warcraft, StarCraft, and Diablo lore, as well as learn about new exciting Magtheridon changes in Patch 2.4. In addition, this episode we have also introduced a new community questions and answers section to get your voice heard.
  Episode 1
⇒
21:24
24Mb
01/10/08
Transcript
Download
To kick off our BlizzCast series, we've decided to begin where every great Blizzard idea begins, at the concept level.
Request from Blizzard
23 February 2008
We are once again looking for fan-submitted questions to answer in future episodes of BlizzCast. It can be anything related to Blizzard, the company, our games, or the talented people that work here. We do have a Q&A session in the soon-to-be-released episode 2 where we cover a bit of Starcraft lore and several World of Warcraft game play questions. Keep an eye on the BlizzCast home page (http://us.blizzard.com/blizzcast/) for when it is released to get all the details.
So if you have a question you want to get to us, please send an email with the subject line "BlizzCast Q&A" to the email address BlizzCast@Blizzard.com and you can include a name/character along with a location/realm if you'd like for us to refer to you during the show if your question is picked.
While we won't be able to get to every one of them, we want to keep you updated on ours games or the company, whatever aspects are most important to you.
Thanks for your help and be sure to tune into future BlizzCasts (http://us.blizzard.com/blizzcast/) to see if your question was answered!
Main

Teams

Products

Games

Applications

Mobile apps

Blogs

Web series

Other