BlizzCon (short for Blizzard Convention and sometimes stylized as Blizzcon) is an annual convention hosted by Blizzard Entertainment at the Anaheim Convention Center, 10 miles from Blizzard's headquarters in Irvine, Southern California. Each year at BlizzCon, Blizzard holds numerous panels revealing their upcoming titles and newest game content, displaying art, hosting live tournaments, putting out playable demos, and much more.
The first BlizzCon was held in October of 2005,[2] and was not an overly successful event. After a year off, BlizzCon returned in 2007, with the popularity of World of Warcraft pushing attendance far higher, and has been a success ever since. Due to the COVID-19 pandemic, there was no BlizzCon in 2020.[3] In its place, a virtual event called BlizzConline was announced to take place on February 19-20, 2021.[4]
Information
BlizzCon is held at the Anaheim Convention Center in California over the course of two days, typically Friday and Saturday, from 10am until 10pm. Blizzard generally saves major announcements about upcoming games for BlizzCon. All of the World of Warcraft expansions have been announced at BlizzCon, except for Legion which was announced at gamescom 2015.
The cost of the ticket (which varies each year) grants attendees entry to the convention hall for the duration of the event and an exclusive Goodie Bag, which often contains things such as in-game rewards for their games, beta keys for upcoming Blizzard titles, and other exclusive Blizzard paraphernalia. Since the amount of tickets is finite, dates for the ticket sales are announced months in advance. On sale day, the tickets are often sold out within the first few hours.
List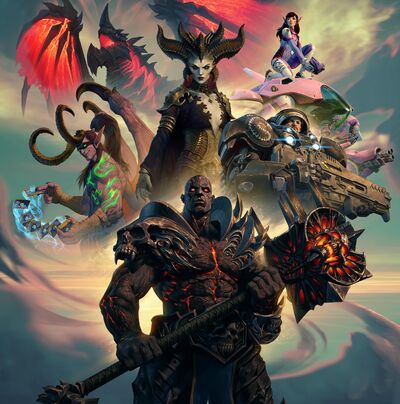 Virtual Ticket
Main article: Virtual Ticket
The Virtual Ticket gives a front row seat at BlizzCon from the comfort of ones own couch, live and in high definition. They'll get comprehensive coverage of both days of the show, including panels, contests, interviews, the closing ceremony, and more, along with some cool commemorative in-game goodies. They can even stream the convention using the free BlizzCon Mobile app.[6]
Applications
Mobile
BlizzCon Mobile is a fast and easy way to help make the most of the BlizzCon experience with streaming panels and videos, a complete interactive events schedule, hall maps, plus footage and results from all of BlizzCon's breathtaking esports matches. The mobile app was originally released as BlizzCon Guide on October 5, 2011, for BlizzCon 2011 but was renamed to BlizzCon Mobile on October 24, 2017, for BlizzCon 2017.
Support for using the mobile app to stream to a Chromecast[7] was added on October 25, 2018, with patch 4.1.0.[8]
TV
The BlizzCon TV app was released for Apple TV and Fire TV on October 25, 2018, along with the Chromecast streaming support for the mobile app.
Notes and trivia
Gallery
Key art
Convention layout
Logos
References
External links
Applications
Main

Teams

Products

Games

Applications

Mobile apps

Blogs

Web series

Other