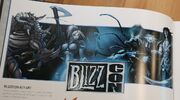 BlizzCon 2005 was a BlizzCon event hosted by Blizzard Entertainment that took place at the Anaheim Convention Center between October 28-29, 2005. There were more than 8,000 people who attended BlizzCon 2005.
Summary
StarCraft: Ghost debuted multiplayer

Showcased zerg as playable
Supports up to 16 players
Line-up
Events
Panels
World of Warcraft

Expansion Demo
Raid Discussion
Dungeon Creation
Lore & Quest Design
Professions & Items
Character Class Discussion

StarCraft
General

Careers in Gaming
Blizzard Cinematic Design
Comic Panel
Tournaments
Goodies
All BlizzCon attendees received their share of free Blizzard swag,[3] including a beta key for the World of Warcraft: The Burning Crusade trial, an in-game baby Murloc vanity pet named "Murky", as well as a BlizzCon T-Shirt, BlizzCon playing cards, and other Blizzard-themed souvenir items.
Movie Contest
Trivia
John 'TotalBiscuit' Bain was invited to cover this BlizzCon because of his work with the Blue Plz! podcast and the World of Warcraft Radio.[4]
Gallery
References
External links
Blizzard Entertainment
 BlizzCon 2005 past event
Blizzard Entertainment
 Official BlizzCon 2005 website

PC.IGN.com
 BlizzCon 2005

Gamespot.com
 BlizzCon 2005

PC.GameSpy.com
 BlizzCon 2005

GamePro.com
 BlizzCon 2005