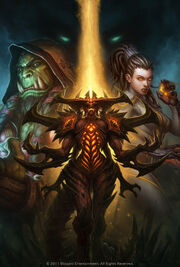 BlizzCon 2011 was a BlizzCon event hosted by Blizzard Entertainment that took place at the Anaheim Convention Center on October 21-22, 2011. There were more than 26,000 people who attended BlizzCon 2011.
The official date for BlizzCon 2011 was announced on February 7, 2011. Prior to the event (16 September until 20 September), BlizzCon ticket purchasers were able to buy their tickets online from the BlizzCon store, although shipping was held off until October 21st.
Summary
Diablo III new cinematic trailer: "The Black Soulstone"
Activities
Discussion panels with Blizzard Entertainment developers
Hands-on play time with upcoming Blizzard Entertainment games
Community contests with great prizes
Smaller, more specific activities

Artist's Stage (Hall A)
Art Gallery (Hall A)
Artists and Developer's Signing (Hall A)
BlizzChat Live Forum (2nd floor, Rooms 201 A and 201 B)
Charity Auction (Hall A)
Cinematic Theater (Hall B)
Lore Zone (Between Halls A and B)
Realm Meeting Area (2nd Floor, Room 204 A-C)
Ask Blizzard! (Hall C)
Make Your Mark At BlizzCon - Graffiti Wall (Hall A-B)
Green-Screen Photos (Hall C)
Loot Elemental (Hall C)
Recruiting Booth (Hall C)
Retro Arcade (Hall A)
Tickets
$175.00 USD per ticket (up from BlizzCon 2010, +$25.00 USD)
$39.99 USD per virtual ticket (same as BlizzCon 2010)
Sold in two batches:

Saturday, May 21st, 2011 at 10:00am Pacific Time (California)
Wednesday, May 25th, 2011 at 7:00pm Pacific Time (California)

Only 4 tickets available per household (down from 5)
Benefits Dinner, supporting the Children's Hospital of Orange County
$500.00 USD per ticket (200 tickets total)

Tickets available on Saturday, May 28th, 2011 at 10:00am Pacific Time (California)

Includes BlizzCon 2011 ticket
Limit 2 per household
To be held Thursday, October 20th, 2011
Swag/Goodie Bag
Coverage
Blizzard created a community site, dedicated completely to BlizzCon! See External Links
DirectTV is covering BlizzCon via a Pay-Per-View event, and offers a streaming internet video of multiple channels.

Price is $39.95 USD
Coverage of the Opening Ceremony and Tournaments is free
Movie Contest
Winning
Other
Song Contest
Costume Contest
Controversy
An edited video clip featuring an interview with "Corpsegrinder" shown during the closing ceremony of the event stirred significant controversy on the forums about homophobic and anti-gay racial slurs being used at a live BlizzCon performance.
This outcry eventually led to public apologies from both the Level 90 Elite Tauren Chieftain band and Mike Morhaime, President of Blizzard Entertainment.
Message from Level 90 Elite Tauren Chieftain | 2011-10-25 23:58 | 
Bashiok
Thank you everyone for your feedback regarding the closing night performance at BlizzCon. While we had some other messaging worked up we were going to post, the members of band wanted to instead address it themselves:
Hey guys, we read and heard all the feedback from BlizzCon this year. The Corpsegrinder bit was never intended to be taken seriously. We are sorry that we offended anyone; everything at our shows is just meant in fun. Thank you all for speaking up. We'll definitely keep this in mind for future shows.
Our humblest apologies,
Level 90 Elite Tauren Chieftain
Apology from Mike Morhaime | 2011-10-27 19:20 | 
Bashiok
Dear members of the Blizzard community,
I have read your feedback and comments about this year's BlizzCon, and I have also read the feedback to the apology from Level 90 Elite Tauren Chieftain. I'd like to respond to some of your feedback here.
As president of Blizzard, I take full responsibility for everything that occurs at BlizzCon.
It was shortsighted and insensitive to use the video at all, even in censored form. The language used in the original version, including the slurs and use of sexual orientation as an insult, is not acceptable, period. We realize now that having even an edited version at the show was counter to the standards we try to maintain in our forums and in our games. Doing so was an error in judgment, and we regret it.
The bottom line is we deeply apologize for our mistakes and for hurting or offending anyone. We want you to have fun at our events, and we want everyone to feel welcome. We're proud to be part of a huge and diverse community, and I am proud that so many aspects of the community are represented within Blizzard itself.
As a leader of Blizzard, and a member of the band, I truly hope you will accept my humblest apology.
– Mike Morhaime
President, Blizzard Entertainment
Gallery
References
External links
Press Release: BlizzCon® 2011 Announced
BlizzCon URL
Official BlizzCon Community Site
Benefit Dinner Information