BlizzCon 2013



Key art

Announced
February 19
Dates
November 8 - 9
Attended
27,000+[1]
Performer(s)
blink-182[1]
Website
BlizzCon.com
Floor map
BlizzCon 2013 is a BlizzCon event hosted by Blizzard Entertainment that took place at the Anaheim Convention Center on November 8-9, 2013. There were more than 26,000 people who attended BlizzCon 2013.
The official date for BlizzCon 2013 was announced on February 19, 2013.
Summary
Diablo III expansion, Reaper of Souls, will be available for PC (duh!) and PlayStation 4
Other
Heroes of the Storm revealed with a cinematic trailer. Formerly Blizzard DOTA and Blizzard All-Stars.
Warcraft Features and Schedule
November 8
Opening Ceremony (

19:00 – 19:45 UTC

)

World of Warcraft: What's Next? (

20:30 – 22:00 UTC

)

The World of Warcraft design team spotlights upcoming content, features, and game updates.

Hearthstone : Fireside Chat (

22:15 – 23:15 UTC

)

The Hearthstone designers discuss how the game was born and grew, along with current metagame trends.

World of Warcraft: The Adventure Continues (

22:30 – 23:30 UTC

)

A discussion of Warcraft's settings, lore, and the direction of the story.

Art of World of Warcraft (

23:45 – 00:45 UTC

)

The World of Warcraft art team gives players a look at the process of creating the game's environments, enemies, and other artwork.
November 9
World of Warcraft Live Raid (

18:00 – 19:00 UTC

)

Two PvE guilds compete in a race to complete the Siege of Orgrimmar raid.

World of Warcraft Raids, Gameplay, Questing, and More (

19:30 – 20:30 UTC

)

The World of Warcraft team shows what's to come, including raids, dungeons, questing, and other gameplay features.

Warcraft Movie Presentation (

21:00 – 22:00 UTC

)

Duncan Jones and key Blizzard personnel discuss the upcoming Warcraft film.

World of Warcraft Q&A (

22:30 – 23:30 UTC

)

The World of Warcraft development team fields questions about the game's lore, dungeons, zones, raids, and more (but not classes).
Other Activities
Hands-on play time with the latest versions of Blizzard Entertainment games
Global finals for Blizzard eSports, featuring top pro gamers from around the world
In-depth discussion panels with Blizzard game developers and artists
Competitive and casual tournaments for players to showcase their talents
Community contests with great prizes
Commemorative merchandise based on Blizzard Entertainment's game universes
More activities and attractions to be announced on www.blizzcon.com
Tickets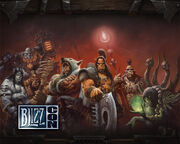 Benefits Dinner, supporting the Children's Hospital of Orange County
$500.00 USD per ticket (200 tickets total)
Includes BlizzCon 2013 ticket
Limit 2 per household
To be held Thursday, November 7th, 2013
The Virtual Ticket allows access to DirectTV's BlizzCon Pay-Per-View event, and offers a streaming internet video of multiple channels.
The Opening Ceremony and Tournaments are streamed by Blizzard for free.
Virtual rewards
In-game goodies:[2]
StarCraft II bonus, Tearin' Stitches portrait and Stitches' Hook decal
Hearthstone mystery minion
Diablo III banner, Mark of Death
Cute But Deadly plushies: Arthas, Kerrigan and Diablo[3]
Contests
Movie
Winning
Other
Art
Trivia
This year's BlizzCon was the first to showcase Cute But Deadly with three new figurines available with the goodie bag.
Gallery
References
External links
Official BlizzCon Community Site