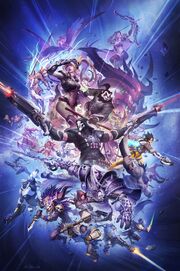 BlizzCon 2014 is a BlizzCon event hosted by Blizzard Entertainment that took place at the Anaheim Convention Center on November 7-8, 2014. There were more than 26,000 people who attended BlizzCon 2014.
The official date for BlizzCon 2014 was announced on April 22, 2014.
Summary
Other
Features and schedule
All times are listed in your browser's local time zone.
November 7
Opening Ceremony (

19:00 – 19:45 UTC

)
Overwatch Unveiled (

20:30 – 22:00 UTC

)

Game director Jeff Kaplan and the development team brief you on Blizzard's unbounded multiplayer action shooter: Overwatch. Meet the first of the game's mega-roster of amazing heroes, preview their unique weapons and powers, and explore the game modes and globe-spanning battlefields where the action unfolds.
Warcraft Movie Presentation (

22:15 – 23:15 UTC

)

Please join the Warcraft movie director, Duncan Jones, alongside Blizzard's Chris Metzen as they give attendees and viewers at home an exclusive presentation packed with surprises.
Diablo III - What's Next (

22:15 – 23:15 UTC

)

Join the Reaper of Souls developers as they discuss new features and concepts that will be coming soon to the world of Sanctuary.
Heroes of the Storm Overview (

23:30 – 00:30 UTC

)

Journey into the eye of the storm with the art and design teams and get a glimpse at what's brewing on the horizon.
Hearthstone Fireside Chat (

23:30 – 00:30 UTC

)

The Hearthstone developers take the stage to talk about upcoming content, discuss their design philosophies, and share a few funny behind-the-scenes stories.
World of Warcraft - Items, Class Changes, and More (

00:45 – 01:45 UTC

)

Join the World of Warcraft dev team for an in-depth look at major class changes, items, and awesome Garrison perks in Warlords of Draenor.
StarCraft II: Legacy of the Void Campaign Overview (

00:45 – 01:45 UTC

)

Get up to speed on the StarCraft II saga and discover what's coming in the Legacy of the Void campaign. Meet new Protoss characters, explore the Spear of Adun, and learn about the unique Protoss factions.
November 8
World of Warcraft Live Raid (

18:00 – 19:00 UTC

)

The World of Warcraft team has challenged two high-ranking PvE guilds to an epic contest: a race to conquer one of the latest Heroic raids... in front of an entire hall full of BlizzCon attendees!
Heroes of the Storm - Sound of the Nexus (

18:00 – 19:00 UTC

)

Join Blizzard's audio team as they assemble sounds from all of our game universes for a sonic battle royale, reinforcing Heroes of the Storm's team-based gameplay with fun, humor, and familiarity.
Overwatch - Origins (

19:30 – 20:30 UTC

)

Supercharged heroes, astonishing super-science, and super-secret syndicates with mysterious agendas—witness the origin story of Blizzard's first all-new game universe in over 15 years, and explore the vision behind the world and gameplay of Overwatch.
Hearthstone - How to Become an Arena Legend (

19:30 – 20:30 UTC

)

Hearthstone balance designer

Mike Donais

and two special guests discuss playing the perfect Arena run. They'll build a deck and jump into the Arena onstage, and then answer your strategy questions.
Heroes of the Storm Deep Dive (

20:45 – 21:45 UTC

)

Join the Heroes of the Storm team for an in-depth look at the process of crafting new heroes and building team-based objectives for the varied battlegrounds of the Nexus.
Evolving Reaper of Souls (

20:45 – 21:45 UTC

)

Explore the team's ever-evolving design philosophies and learn about changes now in development. then watch the developers team up with the community to create a new Legendary item for looting in a future patch.
StarCraft II: Legacy of the Void Multiplayer (

22:15 – 23:15 UTC

)

Explore the multiplayer elements of Legacy of the Void, including new and redesigned unites, an exciting new mode, and the new tournament feature. Come armed with questions and help shape the future of battle in the Koprulu Sector.
World of Warcraft: Warlords of Draenor Cinematic Intro - Reforging the Past (

22:15 – 23:15 UTC

)

Return to Draenor with Blizzard's cinematics team and discover the challenges of bringing classic Warcraft moments to life in a whole new form.
World of Warcraft Q + A (

23:30 – 00:30 UTC

)

Members of the World of Warcraft dev team tank your questions about the game's lore, zones, dungeons, raids, and more.
World of Warcraft: Looking for Group - Documentary Premiere (

01:00 – 02:00 UTC

)

Celebrate 10 years of Azeroth with the premier of an all-new World of Warcraft documentary. Delve into the history of WoW development with the people who create it, and explore the games's impact on the community worldwide.
Closing Ceremony (

02:30 – 05:00 UTC

)
Other activities
Hands-on play time with the latest versions of Blizzard Entertainment games
Global finals for Blizzard eSports, including the StarCraft® II World Championship Series Global Finals
In-depth discussion panels with Blizzard game developers and artists
Competitive and casual tournaments for players to showcase their talents
Community contests with great prizes
Commemorative merchandise based on Blizzard Entertainment's game universes
More activities and attractions to be announced
Tickets
Benefits Dinner, supporting the Children's Hospital of Orange County
$750.00 USD per ticket (200 tickets total)
Includes BlizzCon 2014 ticket
Virtual rewards
Blizzard 2014 Card Back - Infuse your deck with Blizzard spirit by equipping this commemorative card back, forged to resemble the compass design emblazoned in Blizzard's courtyard.
Portraits & Decal - Deck out your profile with a pair of portraits, including Hierarch Artanis and another to-be revealed icon, and prep your army for battle across multiple universes with a Heroes of the Storm-themed decal.
Warlords of Draenor Weapon Transmogrifications - Outfit your heroes with six weapon transmogrification appearances inspired by World of Warcraft: Warlords of Draenor-one for each of Diablo III: Reaper of Souls' classes.
Nexus Mount and Portrait - Rush into the storm atop the ethereal Nexus Charger, and embrace the unknown with the mysterious Nexus Brawler portrait.
Coverage
Blizzard created a community site, dedicated completely to BlizzCon! See External Links
DirectTV is covering BlizzCon via a Pay-Per-View event, and offers a streaming internet video of multiple channels.

Price is $39.95 USD
Coverage of the Opening Ceremony and Tournaments is free
Movie Contest
Winning
References
External links
Press Release: BlizzCon® 2014 Announced
BlizzCon Website
Official BlizzCon Community Site