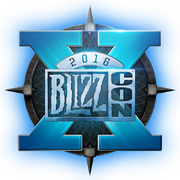 BlizzCon 2016 (a.k.a. BlizzCon X)[2] was a BlizzCon event hosted by Blizzard Entertainment that took place at the Anaheim Convention Center on November 4-5, 2016. There were more than 27,000 people who attended.
The official date for BlizzCon 2016 was announced on April 6, 2016. This BlizzCon was during the anniversary celebration of Blizzard Entertainment's 25th Anniversary and Diablo's 20th Anniversary.[3]
Summary
New charity pet:  

[

Mischief

]

with the proceeds going to Make-A-Wish Foundation.
Patch 7.1.5: Mists of Pandaria Timewalking, Brawler's Guild return, Micro-holidays, Blade's Edge Arena update, class updates
Patch 7.2.0: The Tomb of Sargeras: return to Broken Shore, Legion Assaults, Flying!, class mounts for each class, Tomb of Sargeras raid, Cathedral of Eternal Night dungeon, PvP Brawls
Features and schedule
Friday
11:00AM-12:00PM: Opening Ceremony
12:30-1:15PM: Hearthstone - What's Next?
12:30-1:30PM: StarCraft II - Foundation for the Future
1:30-2:15PM: Overwatch - What's New
2:00-3:00PM: Heroes of the Storm - Hero Deep Dive
2:45-3:45PM: World of Warcraft: Legion - What's Next
3:15-4:15PM: Overwatch Animated Shorts
4:00-4:45PM: Heroes of the Storm - State of the Game
5:45-6:45PM: StarCraft II Multiplayer
5:00-5:45PM: Diablo 20th Anniversary
6:00-8:30PM: Contests
Saturday
10:00-11:00AM: The Future of StarCraft II AI
10:00-11:00AM: Overwatch - Play By Sound
11:30AM-12:30PM: Blizzard 25th Anniversary - A Look Back
11:30-12:30PM: Hearthstone Q&A
1:00-2:00PM: World of Warcraft: Legion - Design Retrospective
2:00-3:00PM: Building Worlds - Inside Blizzard Publishing
2:30-3:30PM: Blizzard College Esports - Behind the Scenes
2:30-3:30PM: In-Game Cinematics - The Cutscenes of Legion
4:00-5:00PM: World of Warcraft Q&A
4:00-5:00PM: Diablo III - Dev Talk and Q&A
5:15-6:15PM: Overwatch Q&A
6:30-9:30PM: Closing Ceremony
Tickets
Swag/Goodie Bag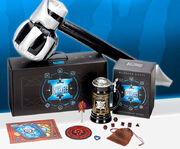 The event's goodie bag includes the following items:[4]
Virtual Rewards
Attending the event or purchasing a virtual ticket has given players access to:[2]
World of Warcraft:  

[

Legionnaire Murky

]

and  

[

Knight-Captain Murky

]

— There comes a time when every murloc must choose a side. Will you mrglgglllgl for the Horde alongside Legionnaire Murky, or dive into battle for the Alliance at Knight-Captain Murky's command?
StarCraft II: Mystery Goodies — Show your opponents you were at BlizzCon with a new portrait—and as a bonus, be among the first to unlock a fun new piece of upcoming StarCraft II content.‡
Diablo III: Diablo 20th Anniversary Pet — Celebrate two decades of terror with this anniversary-themed Diablo pet, based on the Dark Lord's design from the original game. †
Hearthstone: "Welcome Inn" Card Back — Pull up a chair by the fireside at BlizzCon's Hearthstone Tavern, then play a few hands with this year's convention-innspired card back.
Heroes of the Storm: Nexus Tiger Mount — Introducing the latest BlizzCon mount to add to your menagerie—the Nexus Tiger! Dash onto the Battlegrounds riding this ferocious beast and show the opposing team they're in for a fight.
Overwatch: BlizzCon 2016 Bastion Skin — A curious automaton has been spotted exploring the halls of a local gaming convention. Cosplay as a BlizzCon-bound Bastion unit in your next match of Overwatch with this commemorative skin. †
 † Diablo III in-game content is for PC/Mac versions only. To obtain the Overwatch in-game content for PlayStation 4 or Xbox One, players must have linked their Battle.net account to a PlayStation Network account or Xbox Live account respectively.
‡ The portrait was related to D.Va from Overwatch that also came with a bonus goodie: the D.Va Announcer.[6] The announcer was made available later for purchase on the Blizzard Shop while the portrait stayed exclusive to those who attended or bought the virtual ticket.
Videos
Movie Contest
Winning
Other
Gallery
References
External links

Get Ready to Raid BlizzCon® 2016 November 4 and 5

BlizzPlanet
 BlizzCon 2016 Panel Transcripts